Can anybody tell me, who is the grand poobah 'round here?
Yesterday Wayne Cooper and Clyde Drexler passed through my locale of employment. Oddly, I was more delighted with the glimpse of Cooper than Drexler.
1
Drexler was getting his parking validated when I was getting on the elevator to go on break, and I patently ignored him. Once outside, the impetus for being so unimpressed w/ Drexler's presence was pondered.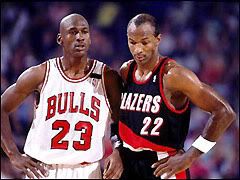 I went to the game in 2001 in which the Blazer's retired Clyde's jersey at halftime, which sucked doubly because (a) Drexler was openly, and somewhat pathetically, pandering for a front office job, and (b) he said "this year[index finder raised heavenly]… could be the year" to which the Blazers (in their first game to feature the return of Rod Strickland) promptly responded by getting pounded in the second half by the lowly Vancouver Grizzlies. They then proceeded to get pounded AGAIN by the Grizz on the road a mere two days later, followed by a a turmultous tumble to the seventh seed and a first-round 3-game sweep at the hands of the Lakers. That series included Sheed throwing his towel in Sabo's face. The faithful of this once-proud provincial franchise will have little difficultly in remembering that the 2000-2001 season was the one where where the wheels really came off, and I was there, and Clyde was there, when the scales tipped.
Now, Clyde Drexler is clearly not to be blamed for the failures of his former team nearly 8 years after he last suited up for them. But in the years between the retiring of his number and the recent rebuilding moves, I have listened to old men in bars and fair-weather fans alike wax fucking poetic about the "Rip City" Blazers, an endless recital of former play-by-play man Bill Schonelly's catch phrases and the virtues of the hard-nosed blue collar ethic of guys like Terry Porter, Jerome Kersey and Buck Williams.
2
The Portland media does little to dispel this mythos,
especially
in regards to Drexler. Interviews are inevitably as cream-puff as they come, and he never says anything of note or substance, since he's still pining for that front-office job, in Portland or elsewhere. Instead, he talks about golf.
Portland being Portland, especially as the rest of the state slips to the right, Drexler's well-manicured golf-course nice-guy routine
3
perhaps runs some what contrary to how the city perceives itself - or at least how I perceive it. I think this generational shift in city self-perception -I think older fans still do relate to the ah-shucks self-restraint of the early '90s teams
4
- is why many Blazer fans
still
adore Rasheed Wallace, whose temper tantrums and fucking-with-system ways easily slotted into Portland's "Little Beirut" identity tag.
5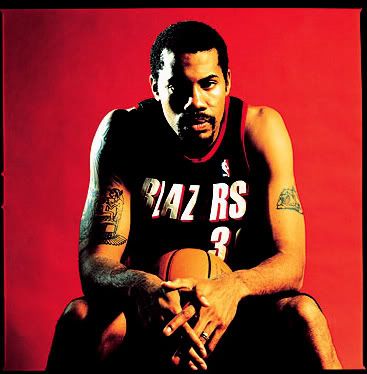 An interesting line of thought in itself, here - the projection of group identity onto that most ridiculous of mantles to bear such a load: the sports celebrity. At the same time, in smaller markets this is perhaps absolutely critical for the team's success as much as winning.
The Blazers enjoyed a nice chain of succession through Drexler-Cliff Robinson-Brian Grant-Rasheed Wallace (as I remember it), although Zach Randolph seems to be having a hard time capturing the public weal's imagination. And if not him, who?
-d.d. tinzeroes
1 Txt exchange w/ Fat:


ME: Wayne Copper just walked thru the office.
FAT [almost instantly]: Wow! The NBA's fourth-best shotblocker in 85-86! Get his 'graff, seeker of power!
2 Nothing against those guys, by the way.
3 This same self-presentation is why I don't care for Dwyane Wade.
4 I never saw the Blazers play at Memorial Colesium, but I've got to Portland Winterhawk games there, and in that glorified gym of an arena one can appreciate Portland's more blue-collaresque past and how that was stamped on the team, appropriately or not.
5 In this sense, it's a double-whammy we lost Jermaine O'Neal, since a couple opinions from him about Bush and/or the War, and I think this city would be eating out of his hand.